How to make a Chewbacca Domo
/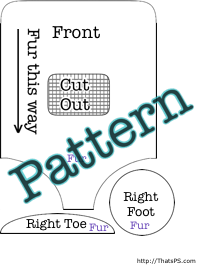 Of all the things I've made on my channel to date, this one has turned out the closest to what I had in my imagination when I first thought of the idea.
I've made many different projects for my channel, and most have turned out pretty ok; Some better than others. But the Chewbacca Domo had just the right amount of Chewbacca and the right amount of Domo for me. I even impressed myself, which is harder to do than you might think.
Enough about how good it is, and onto how I made it. I had a look around a real fabric store, and as soon as I saw the material, I knew immediately that it was the right one to use. From there I found a couple of packs of silver beads, and a ribbon for the sash. All totalled, it came to about $35 not including the cardboard, felt or assembly materials (thread, glue etc)
For those who want to see the entire process (sped up to run 5 mins long), check this video out:
The last few times when making a plushy, I winged the entire thing, and then built a pattern after the fact (for boo at least). This time I wanted to be certain that I started with a pattern so that what you see on the video is **exactly how yours would look if you followed along. In order to build the pattern I thoroughly examined the domo that had previously adorned my toy shelf. I didn't take it apart, but I did use it as a guide for general construction when I was creating the pattern.
The only real place that needed adjustment was the piece that connected the front and the back ("The side"). This turned out to have an extra inch on it for some reason. I've removed that much from the pattern, so hopefully if you make your own you won't have that problem.
It was a real treat working with actual fabric instead of felt. It held together better than the felt did, and really made the finished product seem more professional. I'll definitely be hitting up a fabric store the next time I build a plushy.
The only new addition to the toyshelf this video is the paper tardis from last video. I've also swapped out the old domo with the new Chewy-Domo; It's starting to get a bit tricky to find new places for things.
**For a given value of "exactly"