Tags
Adama, allhailskippy, Battle Star, Battle star galactica, Battlestar Raider, Blackbird, BSG, BSG Raider, craft, crafting, crafts, Cylon Raider, DIY, how-to, HowTo, Kara Thrace, Nerd crafting, Nerd Crafts, nerdcrafting, Ninjatoes, Paper, Paper Craft, puzzle, Raider, Raptor, Scar, Spaceship, Starbuck, Stealthstar, That's PS!, thatsps, Viper
Making this paper craft took WAY longer than I expected it to. Clocking in at around 13 hours, it's by far the longest I've spent working on any craft to date.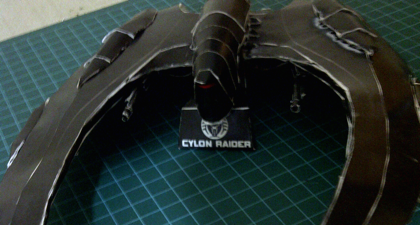 I never would I have thought that making something out of paper could be so difficult.
While cutting it out, I ended up with a nasty dent in my index finger which continued to hurt for about a week after I was done cutting.
And the glue, oh man, the glue. I was pretty careful, but it will be awhile before my fingers are completely super glue free. When they say "instant" bonding to skin, they aren't kidding around!
I shall be starting the editing process tonight, so hopefully I'll be able to wrap it all up at some point later this month. Look forward to that soon(ish)